The basic components of a car air conditioning system comprise a compressor, a condenser, a drier, a thermal expansion valve and an evaporator.
The gas, which needs refilling every two years, is a refrigerant and starts life in the compressor. When the car air conditioning system is switched on, the refrigerant is compressed to become a very hot, high-pressure gas.
It then travels to the condenser where it meets fresh air from the outside of the car. This causes the refrigerant to liquefy and lose its heat. Next, the liquid is stripped of impurities by the drier and travels to the expansion valve.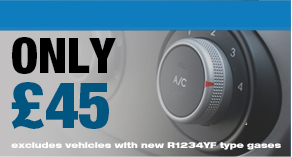 This controls the flow of liquid to the evaporator and is what you are controlling when you change the air con temperature setting on your dashboard. The evaporator is the last stop for the cool liquid which is turned into vapour as it travels through the coils of the evaporator and then blown into the cabin as cool air. While the cool air is circulated around the car, the refrigerant, which has returned to its low-pressure gas form, heads back to the compressor to start the process all over again.
Although this process is extremely efficient, around 10% of air con gas permeates from the system each year. Without the gas, the above process cannot operate efficiently. So not only will warmer air be blown into the cabin but your car's air con system is working harder in an attempt to produce cold air which places greater strain on the engine and uses more fuel
If your car is more than 2 years old it is more than likely due a re-gas.
Our Re-Gas service ensures that your air conditioning system is working efficiently by testing the gas pressure to see if it has dropped. A drop in gas pressure will result in a loss of cooling efficiency which will make your engine work harder and in turn use more fuel.
CALL NOW ON 01394 300 752

AND BOOK YOUR AIR CON RECHARGE