If you get a problem with your exhaust FS Tyre and Service Centre can fix it for you. Your exhaust is made up from a number of parts.
It is likely that only one or two parts of the system will need replacing at any one time.
FS Tyre and Service Centre can replace individual parts or the full system depending on what is required but we will only carry out work that needs to be done.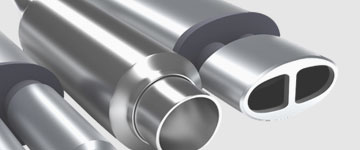 At FS Tyre and Service Centre we can offer a massive range of top brand car exhausts to fit most popular makes and models -all at competitive prices.
The noise your exhaust makes can tell you a lot about its general condition.
A loud roar could signify a hole in your exhaust pipe
A persistent rattle may mean part of the exhaust is loose
A tinkling sound could be a problem with your silencer
If you are experiencing any of the above symptoms or you have any other concerns with your exhaust please call into FS Tyre and Service Centre and our fully trained exhaust specialists will be happy to carry out a comprehensive inspection for you.
For a competitive quote on car exhaust systems contact your nearest FS Tyre and Service Centre.
CALL NOW ON 01394 300 752

FOR YOUR FREE EXHAUST INSPECTION